This is the glorious season of fresh ingredients. It's the time of year when my family enjoys countless vegetables and herbs from our garden and berries and stone fruit from the farmers' markets. This season of fresh ingredients ripened by the summer sun and ready to be enjoyed during the warm days of harvest makes for a plethora of meal options. Here are a handful of my favorite ways to utilize the fruits (and veggies) of summer's labor.
ROASTED PLUMS WITH GOAT CHEESE AND HONEY
Juicy, ripe plums are an enjoyable treat when eaten fresh during the peak harvest season, but they're equally as delicious when roasted. Roasting intensifies the sweetness of plums and makes them a delightful bookend to a summer meal. I like to dress up the roasted plums with a dollop of creamy goat cheese and then drizzle with honey. A garnish of sea salt or toasted hazelnuts is a lovely finish to this beautiful recipe.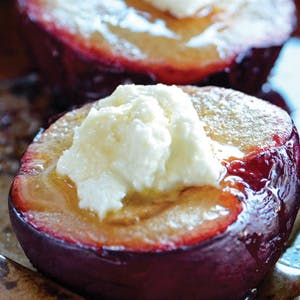 Serves 4
4 medium plums, halved and seeds removed
1 tablespoon extra-virgin olive oil
8 ounces goat cheese
3 tablespoons honey
Course sea salt, for garnish (optional)
Preheat the oven to 400 degrees F. Place the plums cut-side up on a parchment-lined baking sheet. Brush each plum half with olive oil.
Place the baking sheet into the preheated oven and bake until the plums are soft and juices running, about 15 to 20 minutes.
When the plums are done, remove them from the oven and let them cool for about 10 minutes. Transfer the plums to a platter and then dollop each half with goat cheese and a drizzle of honey. Garnish with course sea salt if desired. Serve slightly warm.
SHORTCAKES WITH SUMMER BERRIES AND VANILLA-BEAN WHIPPED CREAM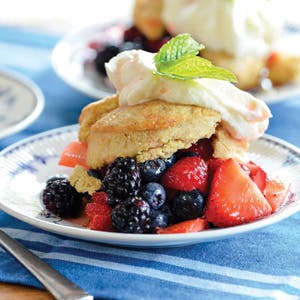 Makes 8 shortcakes
2 cups all-purpose flour
¼ cup sugar
1 tablespoon baking powder
½ teaspoon salt
4 tablespoons cold butter, diced
¾ cup heavy cream
2 pints assorted berries, strawberries stemmed and sliced
¼ cup brown sugar
1 cup plus 1 tablespoon whipping cream
¼ cup confectioners' sugar
1 vanilla bean, split in half and seeds scraped out
1 tablespoon sugar, for sprinkling
Preheat the oven to 425 degrees F.
In a large bowl, mix together the flour, sugar, baking powder, and salt. Cut in the butter with a pastry cutter or your fingers until the mixture resembles coarse crumbs. Gradually stir in the heavy cream until a soft dough forms.
Roll the dough out onto a floured surface and lightly shape into a rectangle about 1½ inches deep. Using a pastry cutter or knife, cut 8 squares.
Place the shortcakes on a parchment-lined baking sheet and brush with the tablespoon of whipping cream. Sprinkle each shortcake with sugar.
Bake for 12 to 15 minutes or until golden brown. Remove from the oven and let them cool. In a large bowl, mix together the berries with the brown sugar and set aside.
In an electric mixing bowl, add the whipping cream and begin to whisk on medium. Slowly add the confectioners' sugar and then the vanilla-bean seeds. Whisk until the whipping cream forms stiff peaks.
To serve, place a shortcake on a plate and slice in half. Layer a spoonful of berries onto the bottom half of the shortcake and then top with the top half of the shortcake. Dollop with whipped cream and serve.
Note: Shortcakes can be held for up to 3 days in a plastic bag or container. Berries can be held for up to 48 hours in the refrigerator. Prepare the whipped cream right before serving.
Click here to view the article.
Article by Home by Design.