This is the glorious season of fresh ingredients. It's the time of year when my family enjoys countless vegetables and herbs from our garden and berries and stone fruit from the farmers' markets. This season of fresh ingredients ripened by the summer sun and ready to be enjoyed during the warm days of harvest makes for a plethora of meal options. Here are a handful of my favorite ways to utilize the fruits (and veggies) of summer's labor.
ROASTED VEGETABLE PANZANELLA SALAD
During the summer months, I find myself with a kitchen counter full of vegetables from my garden; I adore roasting them and using the vegetables for various recipes throughout the week. One of my favorite recipes is this simple roasted vegetable Panzanella salad. The flavors of the harvest are complemented by toasted bread cubes, creamy mozzarella, and a sweet balsamic vinaigrette. It's a delightful low-fuss meal for a summer evening.
Serves 6
1 baguette, cut into 1-inch cubes
⅓ cup plus 4 tablespoons extra-virgin olive oil
1 medium zucchini, cut into ½-inch rounds
1 medium yellow squash, cut into ½-inch rounds
1 small eggplant, peeled and cut into 1-inch cubes
1 medium red onion, sliced
1 orange or yellow pepper, sliced
6 cloves garlic smashed
Salt and freshly cracked black pepper to taste
3 tablespoons balsamic vinegar (white or red)
1 tablespoon honey
2 cups cherry tomatoes, halved
8 ounces whole milk mozzarella, diced into bite-size pieces
1 bunch fresh basil, coarsely chopped or torn
Preheat the oven to 400 degrees F.
Toss the baguette cubes with 2 tablespoons of extra-virgin olive oil. Transfer them to the parchment-lined sheet and bake for about 10 minutes. Remove them from the oven and let them cool. Then transfer them to a bowl.
Next, toss the zucchini, yellow squash, eggplant, red onion, peppers, and smashed garlic with 2 tablespoons of olive oil.
Transfer the vegetables to a parchment-lined baking sheet and then sprinkle with salt and pepper. Roast for about 15 to 20 minutes, until the vegetables are cooked through. I like a crisp-tender vegetable, so I usually remove them at 15 minutes.
While the vegetables are cooling, prepare the vinaigrette. Whisk together the ⅓ cup olive oil, balsamic vinegar, and honey. Season to taste with salt and pepper.
In a large bowl, toss together the baguette cubes, roasted vegetables, cherry tomatoes, mozzarella, half of the fresh basil, and the vinaigrette. Pour the salad into a large serving bowl or a platter and then garnish with the remaining fresh basil. Serve slightly chilled or at room temperature.
HERB-CRUSTED PORK TENDERLOIN WITH RED PEPPER AND WALNUT ROMESCO SAUCE
Although this dish is quite impressive—in presentation and in flavor—it's also simple to prepare. The pork tenderloin lends well to oven roasting. When cooked to 145 degrees F, it will remain moist and tender. The Romesco sauce is the perfect complement to the pork roast with just the right balance of sweet, smoky, and spicy.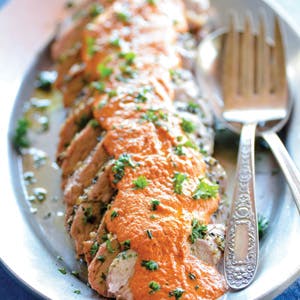 Serves 3 to 4
1 tablespoon dried Italian herbs
½ teaspoon salt
½ teaspoon black pepper
2 cloves garlic, minced
2 tablespoons extra-virgin olive oil
1½ to 2 pounds pork tenderloin
2 large red bell peppers, roasted, peeled, and seeded
1 large ripe tomato
½ cup chopped walnuts, toasted
1 tablespoon chopped parsley
3 cloves garlic
1 tablespoon smoked paprika
2 tablespoons sherry vinegar
Salt and pepper to taste
Chopped fresh parsley, for garnish
Meat thermometer
Preheat the oven to 425 degrees F. Mix together the dried herbs, salt, pepper, minced garlic, and olive oil.
Score the top of the pork tenderloin in a diamond pattern, about ¼-inch deep. Rub the herb and oil mixture on the pork and then place it in a shallow baking dish. Bake for about 10 to 15 minutes or until the pork reaches 145 degrees F internal temperature. Remove from the oven and let it rest about 5 minutes before slicing.
To make the Romesco sauce, add roasted peppers, tomato, walnuts, parsley, garlic, smoked paprika, and vinegar to a blender. Blend until all the ingredients are smooth. Season to taste with salt and pepper.
Slice the pork tenderloin and place the slices on a platter. Ladle the sauce over the top and garnish with chopped fresh parsley. Serve warm.
MINTED PEA SOUP
Fair warning: when you make this for your guests, they will be green with envy. The vibrant color is enough to garner anyone's attention, but what makes it even better is the flavor that follows. This exquisite minted pea soup combines a slightly sweet pea flavor with spicy aromatics and fragrant herbs, finished with a contrasting dollop of crème fraîche.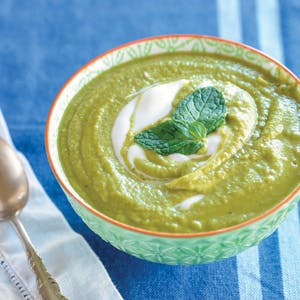 Serves 4
2 tablespoons ghee or extra-virgin olive oil
1 sweet onion, diced
4 cloves garlic, minced
1 tablespoon chopped fresh parsley
1 tablespoon chopped fresh chives
1 teaspoon dried oregano
4 cups of sweet peas (petite)
2 cups vegetable broth
2 tablespoons chopped fresh mint
¼ cup heavy cream
1 teaspoon white wine vinegar
Salt and Fresh cracked black pepper to taste
Crème fraîche, chopped fresh chives, or mint, for garnish
Heat a large pot over medium heat and add 2 tablespoons ghee or extra-virgin olive oil. When the oil is hot, but not smoking, add the onions. Sauté the onions until they are wilted and translucent but not caramelized. Then stir in the garlic, parsley, chives, and dried oregano and sauté for 1 minute longer.
Next, stir in the peas and vegetable broth. Simmer stove top for about 5 to 10 minutes or until the peas are soft. Take the pot off the heat and add the fresh mint. Using an emulsion blender, puree the soup until smooth. If using a countertop blender, cool the soup and then puree in the blender and pour the pureed soup back into the pot.
Place the soup pot back over low heat and stir in the heavy cream. Heat the soup but do not bring it to a boil. Stir in the white wine vinegar and then season to taste with salt and pepper.
Serve warm in bowls with a dollop of crème fraîche and chopped chives or mint.
Note: Thin the soup with additional vegetable broth if it's too thick.
Click here to view the article.
Article by Home by Design.