As Betsy Burnham proves to perfection, the details make a difference in your decor. The principal designer and owner of Los Angeles-based Burnham Design (@burnhamdesign) focused on the details to deliver classic interiors with a layered twist for a family who purchased a pared-down traditional residence in an upscale neighborhood near the beach in Santa Monica, California. "Layering is a big part of what I do," says the clever designer who infused the rooms with an arresting array of elements in a variety of styles, patterns, and textures. "There's a real mix of vintage and new."
For Burnham, the layering process happens in stages with pops of color here and there. "It's all about balance," says the designer, whose personal aesthetic is classic and timeless, but not stuffy. "I always caution people about trends. In the end, no one wants their home to read like a year."
Instead, she says,"I always default to something high-quality and classic and I want it to look collected in a natural, authentic way." Burnham had already established a rapport with these clients while working on their previous home, so when they outgrew it they came back to the designer for more of her dreamy decor.
Because the nearly 5,000-square-foot house was in pretty good shape, most of the work was cosmetic, like the showstopping entry wall. "It was all about having this wallpaper and then everything just fell into place," says Burnham about the exquisite backdrop from Pierre Frey. "They let me play with wallpaper, which is exciting to me, and it really made a couple of the spaces important."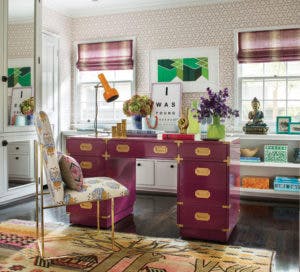 Key pieces they already owned were reworked and repositioned, like a vintage farm table that once served as a desk paired with chairs reupholstered in leopard print. "When used in the entry, they took on a new life in the new home," she says. "This home is all about having a family place and making each individual space in the house matter. They wanted to use all the areas and not be too precious about it."
The layout gave Burnham some leeway to take the road less traveled. "With traditional architecture, you have the opportunity to have rooms with their own distinct personality because you can close the door," says Burnham. "I played a little bit more with color because I could."
Still, there's a common thread. "When you have a through line of neutrals, it will ground whatever bright color you bring in. The great room has a lot of pops of red, but there's also a touch of brown, gray, black, and white," she says.
Initially, the vast great room felt intimidating to the homeowners, so Burnham created an area for the kids to watch TV, a spot for grown-ups to have cocktails, and a place for a game table that can accommodate meals. "It was a fun room for me," she says. "It's a wonderful room that's all about delineated areas that are functional."
The original built-in bookcases that likely date to the '30s or '40s didn't go all the way around the room, so they were extended. Then it was time to accessorize. "The books and art give the room so much personalization," says Burnham.
A neutral U-shaped sectional sofa grounds the great room where pillows covered in vintage textiles lend warmth to the new finds. Behind the sectional sits a midcentury-style console from Lawson-Fenning that's often done in lacquer paint, but Burnham had a better idea. "I asked them to wrap it in a python vinyl I found that has since been discontinued," she says
Vintage pieces add character to the cocktail area where painted chairs join an ornate table the designer calls a must-have piece. A red love seat anchors the space that's further enhanced by decorative accents.
In the dining room, a custom table acts as a statement piece, so the chairs are quiet in comparison. The wife's Hermès china inspired the space where the walls wear Needlepoint Navy by Sherwin-Williams. "I'm really true to paint colors," says Burnham. A distinctive dresser serves as a buffet where custom lampshades add a pop of red.
The white kitchen already featured classic details, so it didn't require much. "It was an opportunity for quiet," says Burnham, who also kept the breakfast nook neutral. The same premise applies to the master bedroom. "I love creamy brown, and cream and white, and gray and white in the bedroom. It's so restful," she says. "As much as I love color, I usually pick monochromatic colors when it comes to bedrooms."
In baking, the layers make the cake; here, they take the cake. "It's the details here—the mix of pattern, vintage with new pieces, art and collectibles—that bring personality into the design and make it special," says Burnham. "This is the kind of design that's the antithesis of the stripped down, high-end 'hotel' look that has had so much popularity in recent years. Love it or hate it, it's one of a kind and definitely not easy to duplicate."