For Lisa Kanning, it's all about the details. And when it came to her clients' sprawling Montana alpine ranch situated on 160 acres, creating interest beyond the breathtaking setting was of the utmost importance. "I love to design a home so that when someone walks into a room, it takes them a few minutes to really take it all in," says the Brooklyn-based designer. "I want them to notice little details every single time they enter that space; things that they didn't recognize before. It's all about creating this new experience every time you're in that room."
Which was exactly the approach Kanning took when creating the interiors for the 10,000-square-foot modern mountain home located in the ultra-exclusive Yellowstone Club, a 13,600-acre private residential community. Anchored by a statement piece, each room seamlessly works in tandem with another but still maintains its own personality. "I love to add one prominent item in each space and then build around it with smaller, textural details," explains Kanning, who was inspired by the sleek, modern interiors of New York's Gramercy Park Hotel for this particular project.
The foyer sets the tone for Kanning's subtle aesthetic with a rug inset into the Montana moss stone flooring. "It immediately defines that space when you walk in," she says. An adjacent mudroom boasts floor-to-ceiling cowhide panels on the wall complemented by rustic, hammered metal hooks that serve as extra character but also functional design. Though the home is modern in context, with its clean lines in the furnishings and accessories, Kanning didn't want to detract from the organic elements that are the foundation for the home's design. To highlight the earthy details, Kanning showcased them in a more modern way. In the media room, logs were cut in one-inch-thick circles and then hung on the wall in lieu of a traditional wall covering. Though it's not subtle in its appearance, the wall feels natural amongst the more modern elements in the room and creates that textural detail that Kanning strives for in her projects.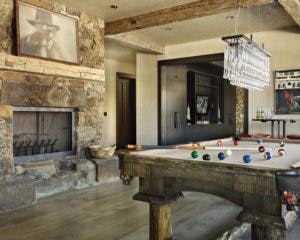 While Kanning loves to adhere details to the walls of a home—especially in this home where organic textures such as cowhide, leather, and white birch adorn the blank spaces— she never forgets to address the ceilings. "The ceiling is one of the most under-utilized design elements in a home," she says. Which is exactly why nearly every ceiling in this home boasts an oftentimes subtle design detail. Locally sourced, reclaimed wood beams run throughout several of the rooms; however, it's in the empty spaces that Kanning put her magic to work by adding wall coverings and textured paneling to create interest. In the game room, a modern woven leather vinyl complements the rustic wood beams while in the lounge area, which functions as the casual entertaining and dining area of the home, Kanning added an ultra-suede wall covering to the ceiling. This choice immediately softens the space and creates a warmer, more comfortable place to relax with friends.
In addition to the details, it was important to Kanning that the home age well with her clients. With children grown and out of the house, the clients wanted it to be a home that was not trendy but suitable for their lifestyle as they age. By mixing those organic textures and finishes with more modern surfaces such as slate-gray concrete counters and minimally detailed cabinetry in the kitchen with more contemporary light fixtures throughout, the resulting product is an interior that transcends time. "It's truly one of those aesthetics that can grow with a homeowner over the years," says Kanning.
While the main house is now complete, the homeowners continue to expand on their land—a helipad, horse barn, and fishing shack to name a few of the additions. "These clients are so savvy and knew exactly what they wanted," says Kanning. Lucky for them, their designer knew how to implement the look they wanted without it feeling over-the-top trendy. "We really just had the same vision from the very beginning," says Kanning, "which made this process so enjoyable."