A Bahamian Retreat That's the Epitome of Barefoot, Breezy Chic
WRITTEN BY KATHRYN O'SHEA-EVANS
PHOTOGRAPHY BY LISA PETROLE PHOTOGRAPHY
As far as Caribbean getaways go, Harbour Island ranks: a nearly four-mile-long isle of pink-sand beaches and a teensy population (less than 2,000 at last count). It's a go-to hideaway for boldface names from Robert de Niro to Jimmy Buffett, thanks in part to its combination of Caribbean charm and New England–style architecture introduced in the 1700s by Loyalist settlers. It was into this paradise that Toronto-based designer Laura Hay worked her design magic for clients on a beachy bungalow that was originally built in the late 1800s—and more than showing its age. "It was an old historical cottage and, like a lot of the cottages on the island, had been Band-Aided over several generations," says Hay. "It was termite infested!" What started out as a renovation quickly turned into a complete restoration and rebuild. "The main house exterior was maintained for historical purposes, but other than that it was a complete gut."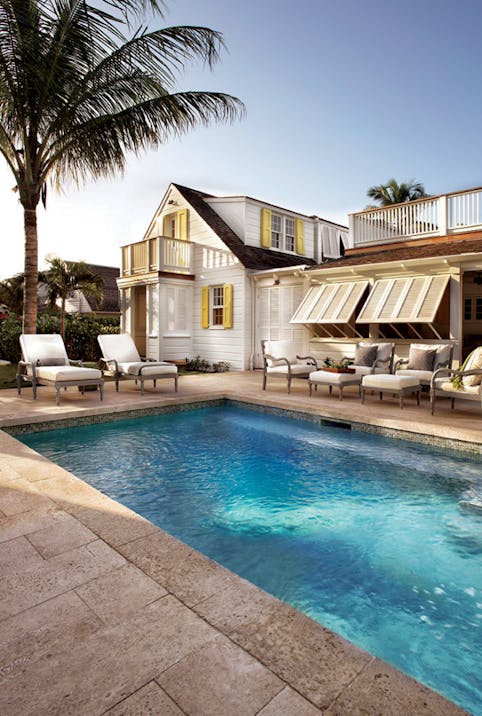 Despite the revamp, nods to the property's history are still well intact. "These cottages were originally built by shipbuilders, so they could withstand hurricanes really well—the pine bends and moves with it," says Hay, who has won a Best of Houzz award for five years running. The renovation, which Hay worked on with architect Jeremy Clarke, was a bit of a game of digging up buried treasure, and—as often happens in historic homes—buried calamity. "Instead of restoring things, they would layer on something else," says the designer, referring to the remodeling decisions of the home's countless previous owners. "Underneath a floor might be original floor; they would add on buildings 'Oh, we need a covered porch!,' everything from different eras. It just didn't flow."
Their solution was to open up the myriad of small rooms in exchange for larger, open living spaces, which can make a beachy getaway feel even more relaxing. It wasn't the only thing they did to help the homeowners relax here. "This cottage boasts more sleeping than the average Harbour Island project," says Hay. "When we redesigned the home, we gave each of the upstairs bedrooms its own private entrance, balcony, and three-piece bathroom connected by [a] pocket door, so family staying there can either have those rooms connected or completely private from each other. There are six bedrooms and six baths, but it's almost like this house has three master bedrooms." That approach is ideal for grown couples traveling together—no one has to wrangle over the "best" room. The architect and designer also wisely put the kitchen in a separate (but connected) building: a move that might be considered especially brilliant in households where one chef is more apt to burn pancakes, bacon, and the like than another.
The final transformation was more than worth the trouble. The abode is a Nancy Meyers' movie set sprung to resplendent life, with pristine white walls, sandy-hued, scroll-arm sofas, and plenty of gray touches to bring the look down to earth. And more than that, this Bahamian gem is an ode to beachside living—from the blonde, wide-plank oak floors (a nod to the original locally harvested abaco pine planks) to the whitewashed, open-beam rafters. The millwork and even the windows replicate what might have been there originally, back when Loyalist settlers broke ground.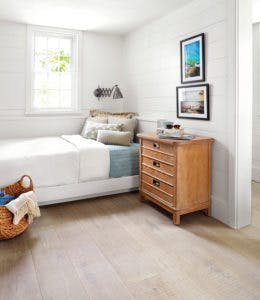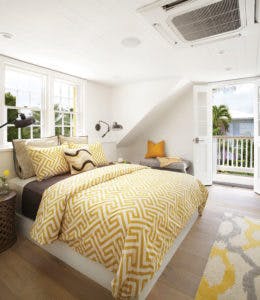 The hues are equally of their locale. "For the decor, we really took inspiration from the local vernacular of colors: the beach, the water," says Hay, noting that they used outdoor fabrics indoors because they sturdily stand up to the mildew and moisture that come part and parcel with life in the Caribbean climate. "The shutters on the cottage were yellow originally, golden yellow. We wanted to freshen it up, so [we] used a lemon rather than marigold." That choice kicked off a complementary palette of seaside hues that always triumph: teal, turquoise, and gray, all of which work with yellow perfectly. For sourcing, Hay used a mixture of box store finds such as Crate & Barrel sofas and west elm duvets, with custom pieces such as a bespoke broadloom rug by Rosecore. Ultimately, it's the mix of neutrals with sun-bright touches that gives the home such a fresh-as-a-sea-breeze feeling. "Everybody likes to keep things white and bright in the Bahamas," says Hay. "It's not somewhere you go with a lot of moody tones."
Full article here.