A Canada Bungalow Meets California Midcentury Modern
WRITTEN BY BLAKE MILLER  PHOTOGRAPHY BY JEREMIE WARSHAFSKY
As cofounder of The Coveteur magazine, Erin Kleinberg was used to seeing the home interiors of some of Hollywood's biggest celebrities including Khloé Kardashian and Hugh Hefner. The magazine, which gave an inside look into tastemakers' closets, was a natural outlet for the Canadian-bred Kleinberg, whose style career included her role as fashion director for W Magazine and designer of her own fashion line. "The Coveteur really took this voyeuristic approach by showing celebrities' intimate spaces like their closet[s]," she says. "It was just another way for me to cover fashion."
It was also how Kleinberg's love for interior design began. So much so that when the mompreneur and her husband, Mickey Lungu, were looking for a home in their native Toronto, she knew exactly what she wanted. "The most important thing to me was natural light and high ceilings," says Kleinberg, who is now cohead of the creative brand agency Méteir Creative. Kleinberg found her perfect home in a 3,200-square-foot bungalow in Toronto's Cedarvale neighborhood. "It was such a cute home," she says. "The exterior looked almost like a surf shack with all-white wood siding and a little peaked roof. It reminded me of a James Perse pop-up store."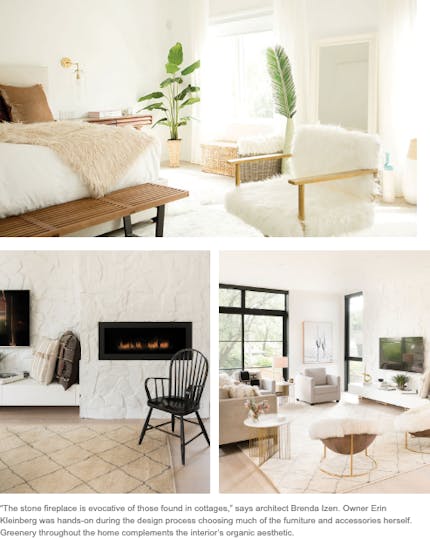 The bungalow needed updating that went beyond finishes and color schemes. So the couple enlisted the help of architect Brenda Izen of Izen Architecture to help reimagine the home. "There wasn't much that was salvageable," says Izen of the bungalow. "But we did take a lot of inspiration from it. White painted brick, little flowers, everything about it was evocative of what they later wanted to build." And what they wanted to build was a home that had a laid-back, California vibe with an approachable, modern design. "Mickey and I vacation a lot in Palm Springs, even got married there," says Kleinberg. "We adore midcentury-modern homes and all of the art deco and colors and vibes of the desert. A lot of the homes in Toronto are dark and a lot of people think that's what you should do in this climate. But for me, I need to feel tons of natural light and feel like I'm at the beach."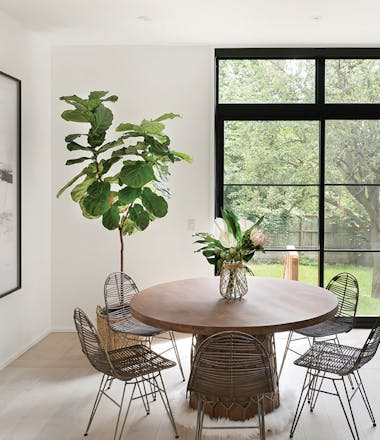 With that in mind, Izen and Kleinberg began their collaboration. "From the very beginning, natural light has always been a driving force with this project," says Izen. In the kitchen, the architect strategically placed two, six-foot-wide-by-two-feet-high windows above the range flanking the hood to introduce natural light into the space. In lieu of traditional cabinetry, Izen added open shelving to complement the sleek marble that runs the length and height of the wall. "It still provides plenty of storage while also letting in a lot of natural light," says Izen. "Cabinets are really formal, and this is not a formal, traditional home." White Caesarstone counters complete the modern look.
In the master bathroom, Kleinberg was inspired by the design of 11 Howard in New York City. "I travel so much for work that I would often pull ideas from hotels I stayed in knowing I might one day incorporate those ideas into my own house," she says. "I spend so much time getting ready in the bathroom that I wanted it to be this sanctuary." Izen designed sleek, white oak millwork to complement the white porcelain sinks and counters and all-brass hardware and accents. "It's not a utilitarian bathroom," says Izen, "it's a destination."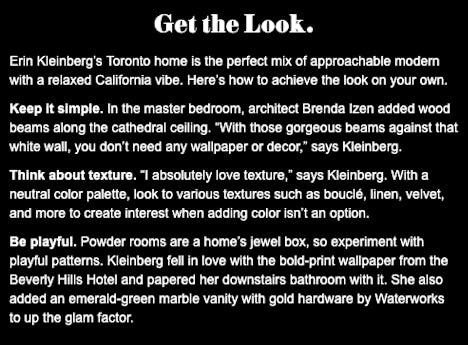 For Kleinberg, designing the interiors of her home was as much about that laid-back, California vibe as it was about reflecting her personal style. "Our home is very modern, but we made sure that there are a lot of warm elements," she says. "I feel very lucky to have done this. To get to build something from scratch exactly to your liking is something very rare."
Full article here.