When Jodi Cooper first visited Nusa Lembongan, an island located southeast of Bali, Indonesia, in 2012, she felt as if she'd entered a wholly different world. "The mainland had lost its appeal due to tourism and overcrowding, so when I first visited Lembongan it was like being in a time warp," says the Australia-based designer. "It was so beautiful and unspoiled by tourism." It had been a dream for Cooper for some time to have her own piece of paradise in Bali, but it wasn't until visiting Nusa Lembongan that she realized this was where she was meant to be. Just eight weeks after visiting the island, Cooper purchased the land where she would build one of the most significant projects in her portfolio to date.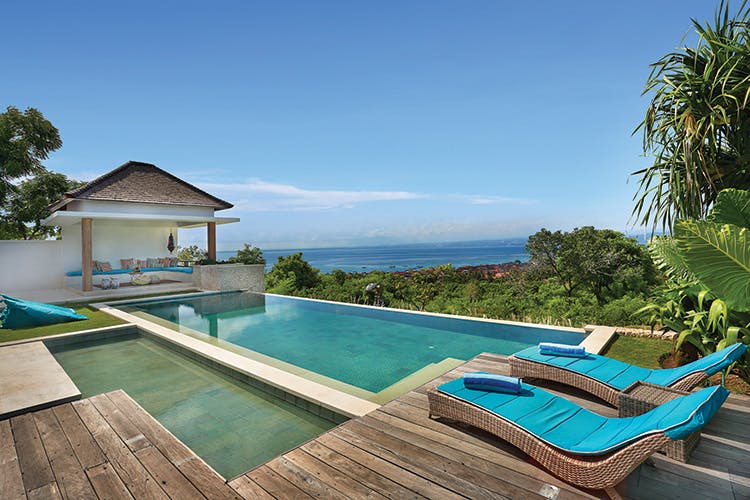 "The island and the location are the magic ingredients that make 353 Degrees North such a special place," she says of her sweeping property overlooking the lush tropical landscape with direct views of Mount Agung, an active volcano, on East Bali. While construction for her home proved to be somewhat of a challenge—"There were lots of learning curves and the price to build was approximately 30 percent more than on the mainland, and a lot of additional issues such as power supply and fresh water to consider, also local culture and traditions to be respectful of," Cooper explains—the design itself was seamless. "I wanted this home to be an experience, not just a destination," she says of the home's design. To achieve this, Cooper wanted to maximize the views from every room in the home while also taking great care not to remove too much of the vegetation surrounding the home. The architecture and interior design needed to be clean and minimal allowing the views to take center stage while a combination of Balinese and Moroccan architecture and aesthetics would define the interiors and create a comfortable and casual setting.
Cooper designed the villa for her to live in alone, which meant the main building served as the central hub of the property and was "designed to be my ideal space and not too large if I was entertaining visitors," she says. The guest wing provides a private sanctuary for visitors yet still feels a part of the main villa. The open concept was important to Cooper as she wanted the spaces to flow from the inside out and, "to be open and free of unnecessary furniture and accessories that would obstruct the views" or simply over-define each space. The choice to forgo a dining room was to encourage guests to eat by the pool, on the roof, or in one of the many outdoor living spaces.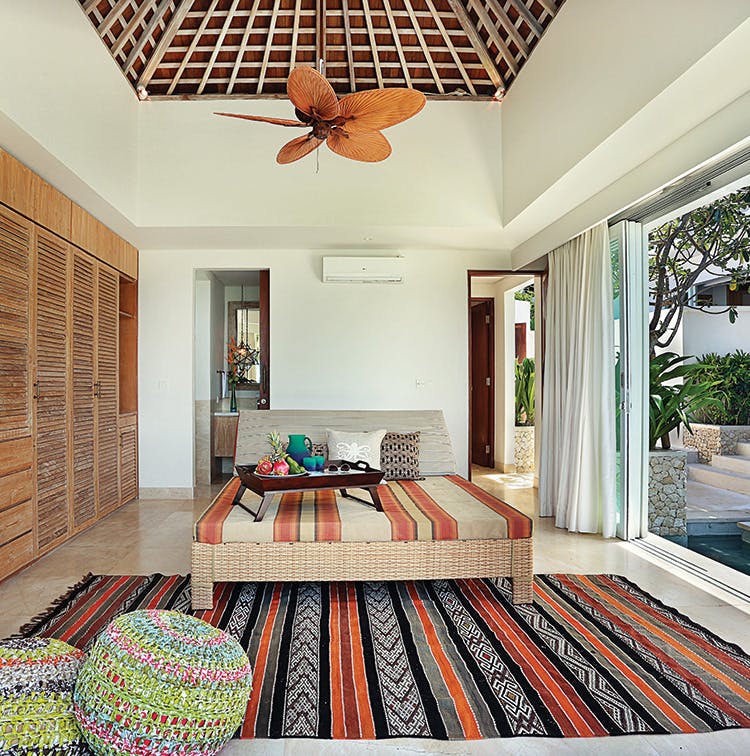 A worldly traveler, Cooper sourced furniture, accessories, and artwork in the home from her travels. "I have been fortunate to travel to amazing places and I always try to purchase something that is unique to the culture," she says. Floors throughout the villa feature vintage rugs from Marrakech, Fez, and Tangier, and vintage Moroccan Bedouin mats complete with ingrained desert sand. Stunning artwork and installations such as the embroidered Suzanis hanging in the villa were purchased while in Uzbekistan. Custom-designed teak wood hand-carved by local artisans surrounds some of the doorways, archways, and doors throughout the villa provide a touch of Balinese culture. And in the master bedroom, a custom-designed headboard flanked with carved doors and antique hand-painted ice containers from China used for side tables lead to a luxurious en suite with garden shower and custom-designed, Moroccan-inspired cabinetry.
While the construction process was challenging to oversee while based in West Perth, Australia, Cooper's vision was brought to fruition: the home is the ultimate experience she had been hoping for. "I think the experience is different for everyone who stays at 353 Degrees North," she says. "For me, it is a place to disconnect with technology and reconnect with nature. A week can feel like a month. It definitely restores your energy."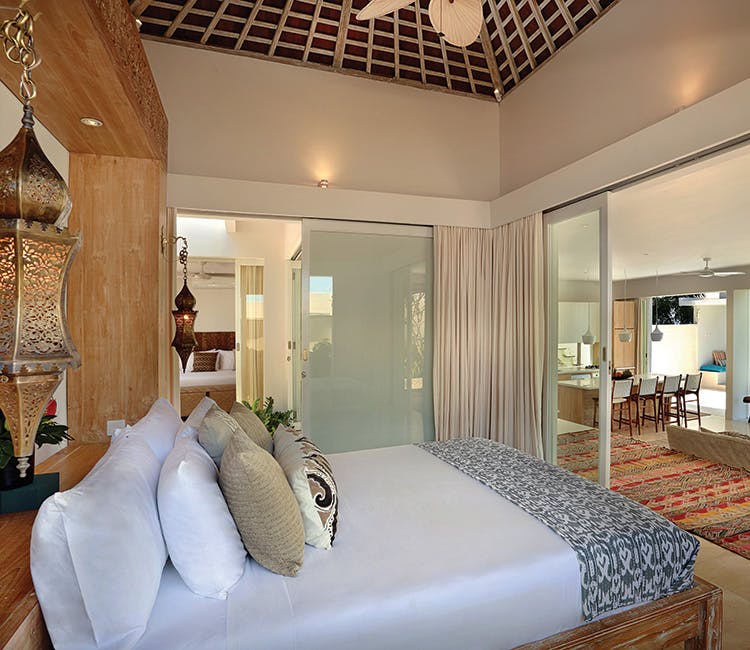 Island Unlocked
If you're headed to Bali, Nusa Lembongan should be top on your list of places to visit. This small island southeast of Bali has fast become one of the most popular destinations in Indonesia. Considered an island paradise away from the busy-ness of Bali, Nusa Lembongan boasts stunning scenery, ultimate relaxation, and fantastic surfing, diving, and snorkeling. Hotels and resorts are amazingly affordable. For luxury options, consider the Tamarind Resort Nusa Lembongan, a small, boutique property with twelve guest suites with private balconies overlooking the ocean or The Point Resort Lembongan, a small, private, luxury resort with unobstructed ocean and sunset views from every guest suite on property. For ultimate privacy and more space, Aqua Nusa is a great option as it offers private one- to two-bedroom villas with private pools and courtyards.