The family table is known as a place of nourishment, comfort, and happy palates. Family meals can help make holidays special, celebrations memorable, and every day delicious. The following family-style dishes are designed to share. Some are filled with simple, fresh ingredients and others feature playful flair. Pull up a chair and get ready to eat.
CLASSIC CAESAR SALAD
Caesar salad was first created in 1924 by Caesar Cardini, who was an Italian restauranteur in Tijuana, Mexico. The original recipe was quite a production that was always prepared table side and mixed by hand. I've simplified the original version, making it a bit more fuss-free for home kitchens and family dinner. This is a salad that pairs well with most any main course and can be topped with salmon, chicken, or shrimp to make it a standalone meal.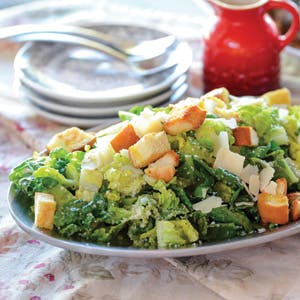 Serves 4
1 large head romaine lettuce, washed and dried
2 cloves garlic
6 anchovy filets
1 teaspoon Worcestershire sauce
1 teaspoon dry mustard
2 tablespoons lemon juice (fresh is best)
1 teaspoon fresh ground black pepper
2 egg yolks for large eggs, at room temperature
½ cup extra-virgin olive oil
Salt to taste
¼ cup grated Parmesan cheese
2 cups of your favorite croutons
¼ cup Parmesan cheese, shaved or shredded for garnish
Chop the romaine into 1½-inch pieces. Refrigerate the lettuce while you prepare the dressing.
Place the garlic cloves, anchovies, Worcestershire, dry mustard, lemon juice, black pepper, and egg yolks in a blender or food processor and pulse until blended. Slowly drizzle in olive oil until a creamy mayonnaise type dressing forms. Taste the dressing and salt to taste.
CLASSIC CAESAR SALAD
Add the lettuce and grated Parmesan to a large bowl and toss with half the dressing, adding more as needed. Then transfer the salad to a serving bowl or plater and top with croutons and shaved or shredded Parmesan.
PARMESAN ROASTED BROCCOLI
I first made this broccoli recipe fifteen years ago when I was trying to get my family to eat more vegetables. The broccoli is laced with olive oil, pepper, and grated Parmesan cheese, which gives it a slightly crisp texture. It's so tasty, sometimes it doesn't make it from the baking sheet to the serving bowl.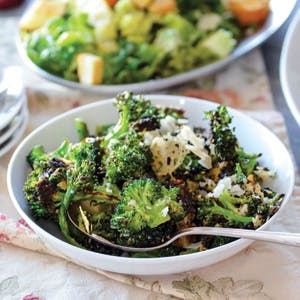 Serves 4 to 6
1½ to 2 pounds broccoli, trimmed into florets
2 to 3 tablespoons extra-virgin olive oil
½ teaspoon black pepper
⅓ cup grated Parmesan cheese
Salt to taste
Preheat the oven to 400 degrees F. Place the broccoli in a large bowl and toss with olive oil, black pepper, and Parmesan. Transfer the broccoli to a parchment-lined baking sheet in a single layer.
Place it in the oven and let it roast for about 10 to 15 minutes or until the cheese has begun to crisp and the broccoli is crisp tender or to taste.
Remove from the oven and let it rest for about 5 minutes and then serve warm. Season to taste with salt. Serve with additional Parmesan cheese to sprinkle on top, if desired.
MEATLOAF FLORENTINE
This is definitely not my mother's meatloaf recipe. It's an updated version that always has my family running to the table for dinner. This recipe is filled with two different ground meats along with fresh Italian flavors and mozzarella cheese. I've added warm milk and bread crumbs to keep the meatloaf moist and tender and serve it with our favorite pasta sauce. Tutto bene!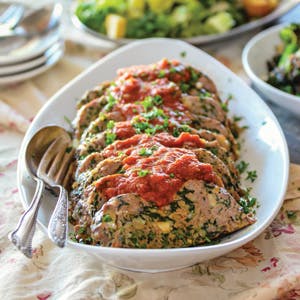 Serves 6
1 pound ground beef
1 pound ground sweet Italian sausage
1 teaspoon salt
1 teaspoon black pepper
1 teaspoon dried Italian herbs
2 teaspoons fresh chopped Italian parsley
½ red onion, finely diced
3 cloves garlic, minced
½ cup warmed milk
½ cup bread crumbs
1 cup chopped wilted spinach, squeezed, either fresh or previously frozen
½ cup diced whole-milk mozzarella
1 to 2 cups of your favorite tomato pasta sauce
Fresh chopped Italian parsley, for garnish
Preheat the oven to 375 degrees F.
In a large bowl, add the ground beef, ground Italian sausage, salt, pepper, dried herbs, Italian parsley, diced onion, and garlic. Gently combine the ingredients, not being too heavy handed or your meatloaf will be tough. I usually use my hands to do this.
Next mix together the warmed milk and bread crumbs. Once the bread crumbs have soaked up the milk, mix lightly and then gently combine with the ground meat mixture.
Then add the spinach and mozzarella and gently combine. Once all the ingredients are nicely incorporated into the ground meat, form a loaf with the ground meat on a rimmed, parchment-lined baking sheet. I use a baking sheet rather than loaf pan so the meat loaf cooks evenly on all sides.
MEATLOAF FLORENTINE
Place the baking sheet into the preheated oven and bake for about 45 minutes or until the meatloaf is done and reads 165 degrees F on a meat thermometer. Remove the meatloaf from the oven and let it cool for about 5 to 10 minutes.
Ladle about ½ to 1 cup of tomato sauce over the top of the meatloaf. Let it sit for another 5 minutes. Slice the meatloaf and then place it on a platter and serve with additional sauce. Garnish the meatloaf with fresh chopped Italian parsley.