London-based garden designer Butter Wakefield is passionate about the natural world, and she brings as much green into her home as she possibly can. "Nature represents what I do, and the color green is my direct link to it," she says. "I find it so life enhancing."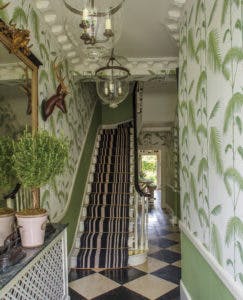 Wakefield has lived in and slowly renovated this late-1800s home for decades, but it took a divorce and a ceiling collapse to finally make it her own. "Hilariously, my ex-husband and I had different tastes. When he moved out, I thought 'Someday I'm going to recapture this and make it exactly the way I want it,'" explains Wakefield. "The first thing I did was redecorate the hallway. I put up that lovely green-and-white palm wallpaper and black-and-white carpet in the halls, stairs, and landings. That was my first bite at making it my own. Then, by sheer fluke, the drawing room ceiling developed a massive crack. . . . It collapsed before I could get the builders to take a look."
The ceiling collapse offered Wakefield a decorating do-over from her original twenty-year-old yellow color scheme. "I was delighted that I had the perfect excuse to redecorate. I chose gray walls and then used as much green fabric as I could possibly get," says Wakefield. Green patterned fabric shows up on chairs, throw pillows, and footstools throughout the drawing room. Sea grass matting covers the floor, while her bold landscape art collection decorates the walls. Potted plants and vases of fresh flowers from her garden sit on every bare surface, not only in the drawing room but in every room of the house.
Wakefield's design plan carries through to the conservatory, a glass-ceilinged room that looks out on her gardens and draws in the warm afternoon light. Green fabrics hold center stage and more landscapes line the walls. The decor reveals yet another passion: crockery. Display shelves hold rows of dishes, most with floral themes. "That's my other real weakness," confesses Wakefield. "Over the years, I would always detour into junk shops and have a little look." Green is the predominant dishware color, but pinks and lilacs also appear on teacups, small plates, and other decorative objects.
Without upper cabinets, Wakefield's kitchen provides yet another place to display botanical prints and plates. When the kitchen was first renovated, the upper cupboards were ditched as a money saving measure. Now Wakefield can't imagine the room any other way. "I would never have hanging cupboards because I think the wall space is much more interesting to fill with artwork." Her kitchen door leads out to her garden, providing an easy link between indoors and out. "I think the interior and exterior work hand in hand. You can't ignore one over the other. The house sits in the middle between the front garden and the back garden, and you have to make it all work as one," she says.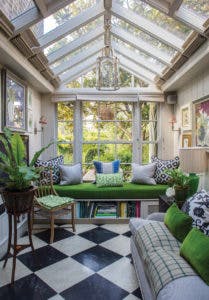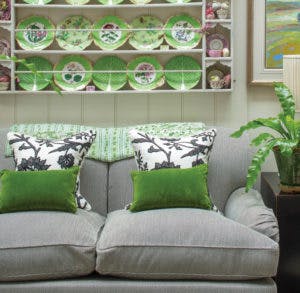 The garden designer also understands the role her home and personal gardens play in her profession. "They are my best advertisements," says Wakefield. "I bring clients here; we have meetings here. I'm presenting to them how I do business, whether that's inside or out." The home and gardens reveal what clients can expect from her creative sensibility. "I'm all about color and pattern and texture and being a little bit crazy. I wanted to make my home an exciting place visually to be in and to inspire."
The colors found throughout show Wakefield's vibrancy and verve. Yet the home also provides her with a sense of peace. "My house has been my savior," she says. "The children have all flown the nest, with the exception of the last one, who's at university. My home has been a source of real comfort, a place of solace and support. It's hard to imagine that [a set of] four walls can provide all that, but it really has." Filled with art, objects, and colors she adores, Wakefield's home perfectly depicts who she is. "It represents what I do, how I've chosen to live my life, and what makes me happiest."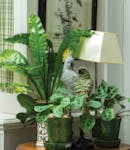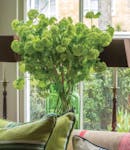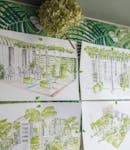 Fighting Color Phobia
Garden designer Butter Wakefield loves color, and it shows throughout her home. But many homeowners fear color and approach it timidly. Wakefield offers advice on how to fight that fear.
Have a neutral base. Even in Wakefield's house, the underlying color scheme is black, white, and gray. Having that neutral base makes it easier to experiment with other colors.
Start with a color you adore. When you begin with a color you have an affinity for, you will be more comfortable using it into your home.
Introduce color in small ways. Wakefield suggests starting with pillows and lap blankets. They're inexpensive and easy to switch out if you don't like them.
Just have some fun. "Start small, but be adventurous," says Wakefield. She recommends, for example, upholstering a chair with a patterned fabric on the inside surface and a solid on the outside.