BAKED CLAMS WITH LEMON-AND-HERB BUTTER
I could probably eat a dozen of these little beauties all by myself. These tasty treats from the sea are combined with fresh herbs, garlic, butter, and toasty breadcrumbs.
Makes about 2 dozen 
1 cup white wine
3 sprigs thyme
2 pounds little neck clams (I try to find the largest), scrubbed clean
¼ cup butter
1 clove garlic, minced
1 teaspoon finely chopped parsley
1 teaspoon finely chopped chives
¼ cup breadcrumbs
1 tablespoon Parmesan cheese
1 lemon plus lemon wedges, for serving
Pinch salt
Dash pepper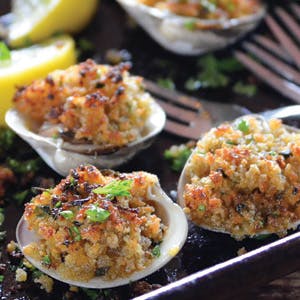 In a large pot, heat the wine and springs of thyme over medium heat. When the wine is hot, add the clams and then turn the heat down to low. Cover the pot and cook until all the clams have opened. Discard any clams that did not open.
Strain all the cooked clams from the liquid and recover any clam meat that came out of the shells floating in the bottom of the pot. All the clams should be open.
Once the clams have cooled, remove the clam meat from the shells and set aside in a bowl. Take each clam shell and break them apart at the seam. Lay about 25 or so halved clam shells on a baking sheet. Add one clam to each shell half. You may need to use a few more halved clam shells if you have additional clam meat. Discard the extra shells that you don't use.
In a saucepan over medium heat, melt the butter and then add the garlic, parsley, and chives. Then stir in the breadcrumbs, Parmesan, and a squeeze of lemon. Season with salt and pepper to taste.
Add a bit of the breadcrumb mixture on top of each clam and then pop it in the oven and broil for just a few minutes or until the breadcrumbs are golden brown.
Remove the clams from the oven and transfer to a platter. Serve with lemon wedges.
PAN-COOKED HALIBUT WITH FENNEL, ORANGES, AND GREEN OLIVES
This classic pan-cooked halibut is combined with the sweet flavors of mandarin oranges and savory, salty flavors of fennel and green olives. This makes a lovely and simple meal when served with farro, couscous, wild rice, or quinoa.
Serves 2 (can be easily doubled)1 pound halibut (thinner filets if you can find them as they are easier to pan sear), or your favorite firm white fish, cut into 2 pieces or 4 smaller pieces for ease of cooking
Salt and freshly cracked black pepper
1 tablespoon clarified butter (ghee) with 1 tablespoon olive oil
1 to 2 tablespoons unsalted butter
1 fennel bulb, thinly sliced
1 medium clove garlic, finely minced
¼ cup dry white wine
2 tablespoons mixed chopped Italian parsley and fresh thyme
1 orange, zested
Handful of sliced green olives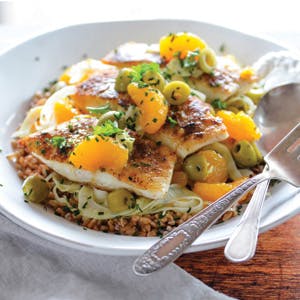 Season the halibut filets with salt and freshly cracked black pepper.
Heat a large nonstick or fish-friendly skillet over medium-high heat and add the butter and oil, combining them as the butter melts.
When the butter/oil is hot but not smoking, add the halibut filets flesh side down. Let the filets cook in the pan for about 5 minutes or until the flesh-side down has formed a nice golden-brown crust and comes off the pan easily.
Flip the fish to skin-side down and finish cooking, turning the heat down to medium if needed. Fish should typically be cooked 10 minutes for every inch of thickness. This is true for most medium- to thick-fleshed fish such as halibut, salmon, swordfish, etc. When the fish is done, transfer to a platter and keep warm.
Over medium to medium-high heat, add the unsalted butter to the fish pan and let it melt. Add the sliced fennel bulb and allow it to caramelize a bit, turning golden brown. Just before the fennel is done, add the garlic and cook for 1 minute longer.
Stir in the ¼ cup of white wine and chopped fresh herbs. Let the wine reduce by half and then add the orange zest and green olives.
Hold the skillet over the heat just until the mixture is warmed through. Season the mixture with additional salt and pepper to taste and add 1 more pat of butter. Let the butter melt and then divide the fennel mixture onto 2 plates. Top the fennel mixture with a piece of halibut and garnish with additional chopped Italian parsley and orange zest.
BACON-WRAPPED SCALLOPS WITH LEMON-AND-PARSLEY BUTTER
These scallops make for fun and tasty starters, but they can also serve as a light meal when paired with a tossed green salad.
Serves 2 to 4
1½ to 2 pounds large, dry, packed scallops
1 package thin-sliced bacon
Toothpicks
1 to 2 tablespoons extra-virgin olive oil
Salt and pepper
1 stick butter
1 lemon, zested and halved
1 tablespoon finely chopped Italian parsley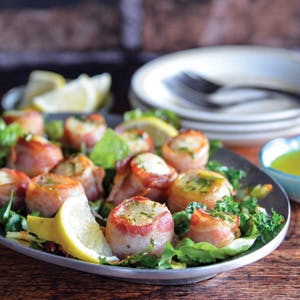 Preheat the oven to 425 degrees F.
Dry each scallop with a paper towel. Make sure you peel off the "foot" of the scallop. It looks like an opaque tag on the scallop and it comes right off when pulled.
Wrap each scallop in a slice of bacon and secure it with a toothpick. Brush the wrapped scallops with olive oil and then season lightly with salt and pepper.
Set an oven rack on a rimmed baking sheet. If you don't have an oven rack that fits a baking sheet, then line a baking sheet with parchment paper. Place the scallops on the rack or parchment and then put the baking sheet into the oven and bake for about 15 to 20 minutes or until the scallops are slightly plump and opaque and the bacon is done.
While the scallops are baking, place the butter in a small saucepan and melt over medium-low heat. Once the butter is melted, add the lemon zest, Italian parsley, and juice from half of the lemon. Season to taste with salt.
When the scallops are done, transfer them to a platter and drizzle with the lemon-and-parsley butter, to taste. Serve warm.
Note: Be sure to remind any guests that the scallops were baked with toothpicks!
Article by homebydesign.