CARROT CAKE CUPCAKES WITH CREAM CHEESE FROSTING
This is a special childhood cake that my Mom often made. It was her signature cake recipe and my siblings and I were always thrilled when it appeared on the kitchen counter. I've made this recipe into cupcakes and tweaked the cream cheese frosting with a bit of maple syrup, which complements the flavors in the cake. The result is a moist yet light cake, sweet with layered flavors and textures, and topped with a dollop of luscious cream cheese frosting. I have a feeling you'll eat more than one!
Makes about 24 cupcakes
2 cups all-purpose flour
2 teaspoon baking powder
1 teaspoon salt
2 teaspoons ground cinnamon
1½ cups vegetable oil
1¾ cups sugar
4 eggs
2 teaspoons vanilla
1 cup walnuts, chopped
2 cups shredded carrots
1 can crushed pineapple, drained
1 cup golden raisins
8 ounces cream cheese, room temperature
½ cup butter, room temperature
3 cups powdered sugar
2 tablespoons maple syrup
Chopped fresh walnuts, for garnish (optional)
Preheat the oven to 350 degrees F.
In a medium bowl, mix together the flour, baking powder, salt, and ground cinnamon.
In the bowl of an electric mixer or large mixing bowl, mix together the vegetable oil and sugar until nicely combined. Then mix in the eggs and vanilla and whisk until creamy.
Fold in the walnuts, shredded carrots, crushed pineapple, and raisins and stir until combined.
Line the muffin pan with cupcake liners and fill each cupcake liner with batter about ¾ full. Bake for about 20 to 25 minutes or until the cupcakes are firm to the touch and golden on top.
Let the cupcakes cool before frosting. To make the frosting, add the butter and cream cheese to an electric mixer with the whisk attachment. Whisk until smooth.
Slowly add the powdered sugar and maple syrup and whisk until smooth and creamy.
Add the frosting to a pastry bag and pipe the frosting onto the cooled cupcakes. Garnish with chopped fresh walnuts if desired.
Store the cupcakes at room temperature.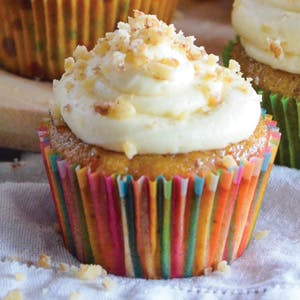 CLASSIC PEANUT BUTTER COOKIES
I always bake these cookies at home. They aren't too sweet, which allows the flavor of peanut butter flavor to shine through. I also like my cookies a bit hearty in texture, which makes them the perfect consistency to dunk into your morning coffee.
Makes 12 to 18 cookies
1½ cups all-purpose flour
1 teaspoon baking soda
½ teaspoon salt
½ cup quality shortening
½ cup sugar
½ cup dark brown sugar
1 large egg
1 cup peanut butter, smooth or crunchy
1½ teaspoons vanilla
1 to 3 tablespoons milk (as needed)
Preheat the oven to 350 degrees F.
In a medium bowl mix together the flour, baking soda, and salt.
In an electric mixer with the paddle attachment, mix together the shortening, sugar, brown sugar, egg, peanut butter, and vanilla until creamy.
Add the dry ingredients to the wet ingredients and mix. If the cookie dough is too crumbly, add 1 or 2 tablespoons of milk to bring the dough together.
Form the dough into 1- to 2-inch balls and then press the center with your thumb or with a fork, making a hatch print on the cookie.
Bake the cookies for about 10 to 14 minutes or until they are done. Remove the cookies from the oven and let them cool for 5 minutes before transferring to a baking rack or tray.
Keep the cookies in a covered container at room temperature.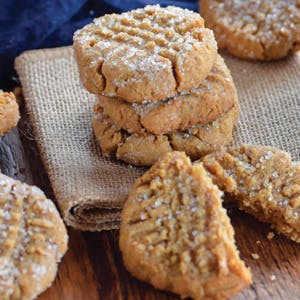 Article by home by design.