Putting the rock in Little Rock, Arkansas comes easy to local designer Tobi Fairley, who outfitted her young clients' downtown penthouse with cinematic glitz at every turn. "They're hip and fashionable, and they were willing to take risks with color and design," says Fairley. "They wanted something edgy and glamorous that was also open and inviting."
That's perhaps most evident in the penthouse's dreamy master bedroom, with its bird's-eye views of the glimmering Arkansas River and the cityscape below. "It was an empty shell when we started," says the designer. "I wanted to give them a unique space that would reflect their sense of style, and that would be unlike anything their guests had seen before."
The biggest showstopper is one that's too-often overlooked in interior spaces: the ceiling. Fairley had it painted in Benjamin Moore's Midnight Navy, in a reflective high gloss, which she notes gives it the feeling of the night sky. "Although the ceilings are tall, that gorgeous navy lacquer makes the room seem cozy, particularly when the draperies are closed," says Fairley. "It's so sophisticated." She amplified the starstruck mood by adding an antiqued brass and crystal Sputnik light fixture by midcentury-inspired designer Jonathan Adler. "It really adds to the idea of a night sky rather than just a ceiling, especially when the light bounces off all the crystals in the chandelier."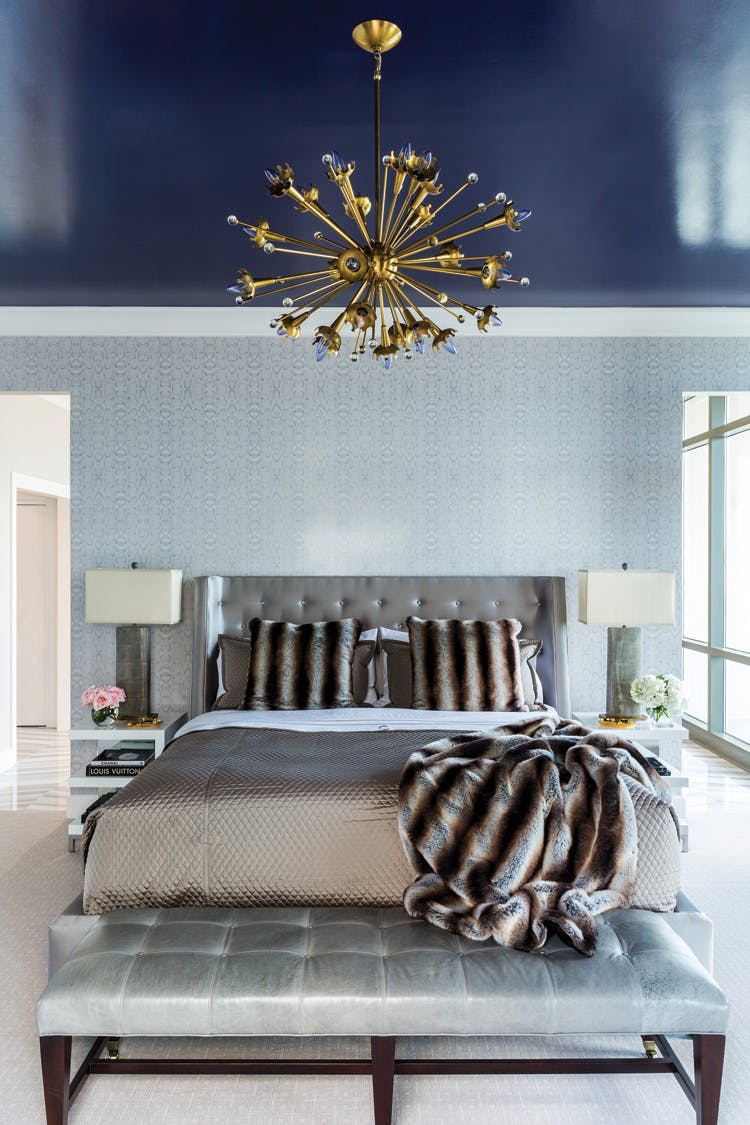 Shimmery upholstery and metallic finishes create an instantly cool vibe in the master bedroom; the addition of a faux-fur throw and pillows, button tufting, and quilting prevents it from feeling cold.
Fairley brought the room back down to earth with her choice of wallcovering—a subtle Osborne & Little snakeskin wallpaper. "I wanted to keep the palette calm and restful since this is a master bedroom, but also add texture and pattern to make it a fashion-forward statement," she notes. The Maxime upholstered headboard by Bernhardt creates a bit of a cocoon, with button tufting for extra coziness; faux-fur throw pillows and a blanket from Fabulous Furs supply luxurious texture—and are a homey godsend to snuggle up with on cool nights. "The bed is incredibly comfortable for people who like to read in bed or watch television," says Fairley. "It adds to that sense of a lush oasis for my clients. That's really what a master bedroom should be—a place to forget the stress of your day."
The designer also utilized expertly placed notes of symmetry—in everything from a pair of bedside table lamps to the seating area chairs overlooking the river below—to add to the aura of spa-like calm. "Symmetry is critical for creating balanced spaces that look pulled together and complete," says Fairley. But a room must be functional for it to be truly beautiful, and Fairley delivers, with lined blackout curtains—de rigueur for blocking the sleepless city lights—and even a practical bench at the foot of the bed. "I love using benches like this one from Lee Industries at the end of a bed because they are so versatile," she says. "You can use them for extra seating, as a place to perch while you put on your shoes, as another surface for books or clothing, and so much more." Fairley is a stickler for operational nightstands, too. "I like for the bedside tables to be right at the height of the bed. That keeps bedside lamps at the correct height too, so they don't shine light right into my clients' eyes," she notes. She prefers to keep bedside lamps—in this case, luxe, faux-sharkskin wrapped ones from Currey & Company—within easy reach, so the homeowners aren't exerting themselves to turn the light on or off.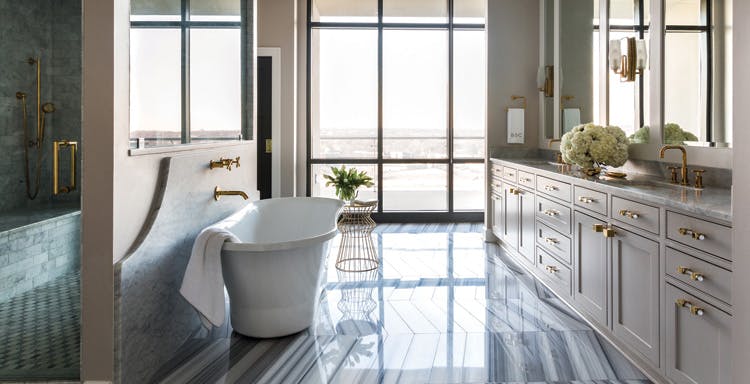 "It's all about luxe details and creating a spa-like atmosphere in this room. A deep soaking tub like this is perfect for washing away all of your troubles!"
Snakeskin-inspired wallpaper from Osborne & Little provides a neutral touch to balance the room's more overtly glamorous touches. Brushed gold fixtures in the master bathroom are eye-catching and provide a warm foil to the marble's cool tones.
In the en suite bathroom, which is bathed in neutral tones, Fairley truly exemplified her belief that design should make you feel amazing from the inside out. It's like walking into a private, five-star spa: complete with a steam shower with multiple shower heads, Carrara marble subway tiles, and a soaking tub from Signature Hardware that would be the envy of any Hollywood starlet.
"It's all about luxe details and creating a spa-like atmosphere in this room," says Fairley. "A deep soaking tub like this is perfect for washing away all of your troubles! I positioned it so my clients could also take in the city views while they're relaxing." Dazzling brushed gold fixtures add a subtle glow to the room. "They're the perfect 'jewelry' to finish this fashionable master bath," she says. Fairley chose a floor that nods to the adjacent envelope-pushing bedroom: tiles from Walker Zanger called Helsinki in a Silver Dusk color, laid out in a chevron pattern. "It's really the highlight of this bathroom," she says.
Each choice, combined, creates a sumptuous hideaway lofted above the frenetic city streets. "I'm pleased with a space when we reach magazine-quality design," says Fairley. "But I know I've been successful when a space I design helps improve relationships, free up time, and enables people to feel more relaxed, productive, and fulfilled. I believe interior design is about making your life better from the inside out."
Original article by 'home by design magazine'